Matadors Cruise Past Paradise Valley To Reach ACCAC Semi-finals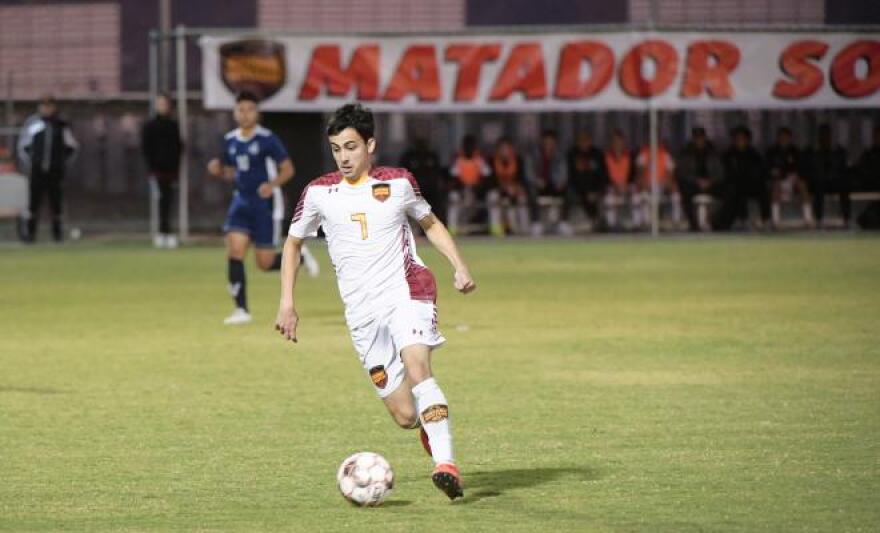 The Arizona Western College Men's Soccer team (12-5-2 overall, 7-3-1 ACCAC) punched their tickets to the ACCAC semi-finals after a convincing home win over Paradise Valley (8-10-1 overall, 5-4-1 ACCAC) Monday night.
The Matadors were on the scoreboard early in the first half when Leo Amaral ripped a shot in the right corner for the 1-0 lead.
AWC would go on to pile four corners and a pair of 1-on-1 situations but failure to capitalize on them would send the Matadors into halftime with the slim lead.
AWC would waste no time upon returning from the break. Just four minutes in, Ridwane Boukraa would get on the end of a cross with a beautiful volley, smashing the ball past the keeper to double the Matador lead.
In the 67th minute, the Matadors put the nail in the coffin when Jesus Sanchez would find Giorgio Martino who delivered a rainbow chip just over the goalkeeper for goal number three, shattering Paradise Valley's hopes of getting back in the game.
That proved to be enough as the ACCAC/Region I Goalkeeper of the Year Duro Dragicevic notched the clean sheet with help from defenders, and fellow All-Conference selections, Derek Fournier and Jed Bowman, as well as a typically terrific performance by Romulo Bosqueiro and Arturo Ledezma in the back row.
Arizona Western entered the match having beat Paradise Valley both times they played during the regular season, the first time at home in August, 3-1 in a non-conference game, and the second time to open conference on the road in September, 4-2.
The cooler night made an intriguing backdrop for a hotly contested match between two familiar foes.
Paradise Valley has proven to be one of the few teams that have scored multiple goals against the Matadors in a conference match this season. The Pumas also came in confident with a win over the 2nd seed Yavapai RoughRiders early this year. While this concludes the season for Paradise Valley, the Pumas proved to be a tough matchup for all ACCAC opponents.
The Matadors continue the post-season push, advancing to the semi-finals for the 5th consecutive season and will travel to top seeded Phoenix College on Wednesday, October 30th, at 6:00pm. The Matadors split the season series with the Bears as Phoenix won the non-conference match the last times these teams played in Phoenix. The Mats won the conference matchup in Yuma.
Phoenix College will stream the game on Facebook Live on the Phoenix College Men's Soccer page.
The AWC women's soccer team has a Region I quarterfinal matchup today at 6 p.m. against the Pima College Aztecs from Tucson at 6 p.m. at the Matador Soccer Field.